Collision repairs are at risk of a loss of volume prompted by the rise of advanced driver assistance systems, including the autobraking ramping up across the U.S. fleet.
CCC predicted in 2018 and again this year that ADAS is leading to what will be a 5 percent drop in vehicles in crashes from a baseline 1995 statistic by 2022. ADAS starts to more significantly cut crash volume from that tipping point, with volume down 20 percent by 2030 under CCC's projections.
"So, while this is only a high-level estimate, it underscores the inevitable decline in frequency that these systems will have as ADAS market penetration grows," CCC wrote in its 2019 "Crash Course." "… More recently, as auto claim frequency has begun to flatten and motor vehicle fatalities have fallen slightly, there is evidence that perhaps some of this can be attributed to a greater share of vehicles on the road with ADAS."
The Insurance Institute for Highway Safety has consistently found ADAS technology cutting crashes, perhaps most notably the autobraking OEMs will make standard as of 2022.
"Because there was limited data released to suggest that ADAS efficacies had improved dramatically, or that the rate of adoption will ramp up more quickly, our projection remains the same this year," CCC wrote in the 2019 "Crash Course." So, while this is only a high-level estimate, it underscores the inevitable decline in frequency that these systems will have as ADAS market penetration grows."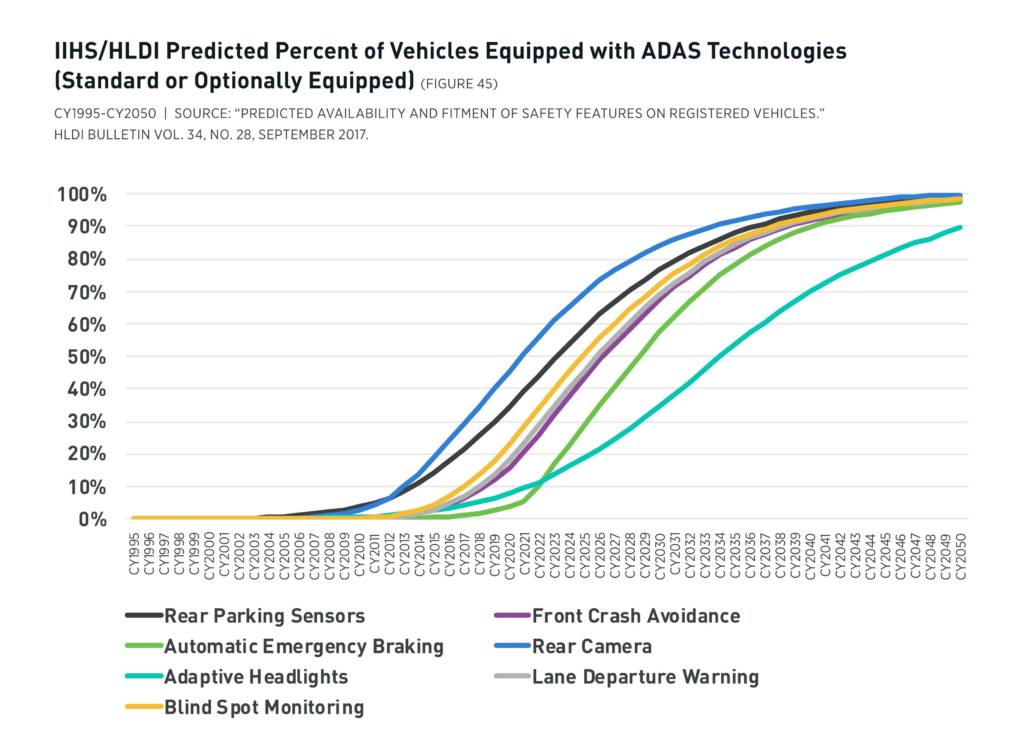 The U.S. fleet itself remains aged, with the average vehicle between 11 and 12 years old and not necessarily sporting any ADAS. However, the average repairable vehicle is just 5.9 years old and the average totaled car 9.66 years, under CCC's data. This means repairers could in theory be facing a smaller pool of potential customers more prone to having newer technology and potentially avoiding more crashes than the overall vehicle fleet.
Of course, as CCC observed, pot legalization, distracted driving and other factors might offset this decline.
In any case, a sort of ADASaggeddon seems to be creeping up on the repair industry, where frequency plummets but severity might not climb enough to keep every shop fed to the degree it'd like.
"We are starting to see some of that potential" reduction in crashes, CCC's "Crash Course" author, analyst and director Susana Gotsch said in an interview this month.
But despite ISS Fast Track Plus reports of frequency reductions (except in commercial) in 2018 and three of the nation's top 4 auto insurers describing the same, Gotsch said she didn't think the industry was truly over that ADAS-decimating-frequency cliff yet.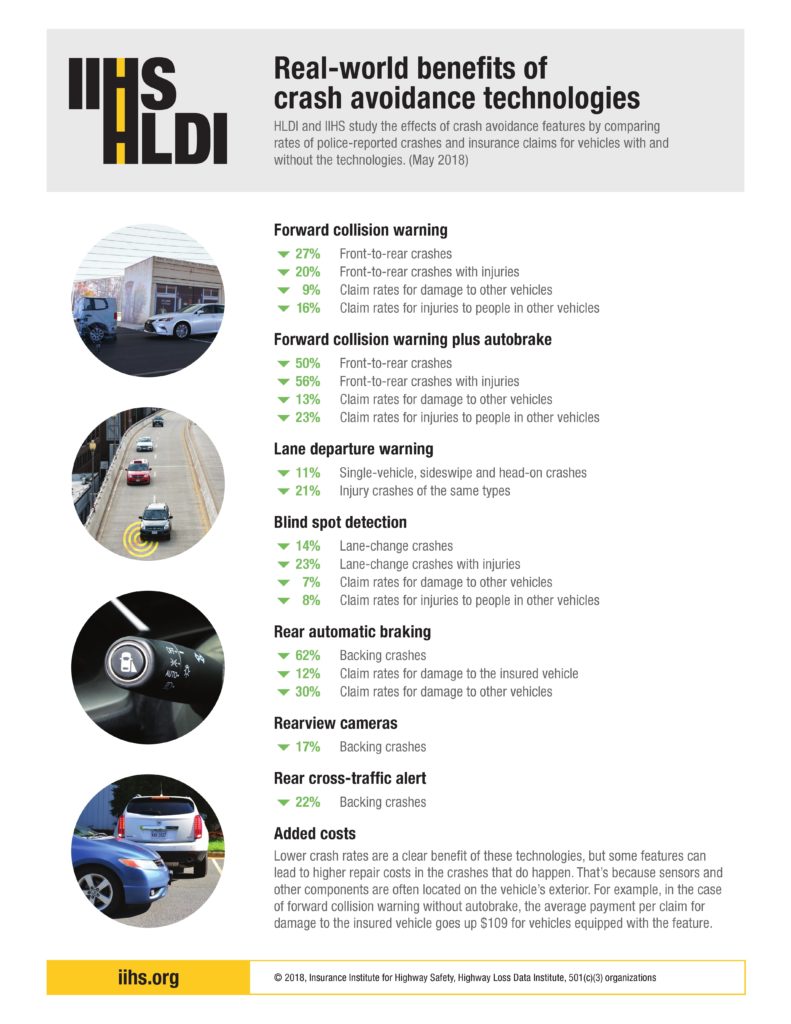 Other factors
Gotsch credited ADAS with some responsibility for a frequency decline, but pointed to other factors which could influence the statistic.
Miles driven was "essentially flat," and the car sales seen today involve more households buying a third vehicle, Gotsch said. The 2017 National Household Travel Survey found the percentage of households with at least three vehicles rose to 24.4 percent from 22.7 percent in 2009, while the percent of two-vehicle households fell 3.1 percentage points.
"You're spreading the mileage across more vehicles," Gotsch said. "… That's one of the drivers."
"Historically, a key proxy for likely vehicle accident exposure was the number of miles driven per vehicle," CCC wrote in the "Crash Course." "With overall miles driven per household roughly flat to down per the U.S. Census Bureau's 2017 National Household Travel Survey, despite increases in vehicles and licensed drivers per household, this would suggest a key factor driving vehicle accident frequency in the U.S. has returned to pre-recession levels."
Congestion was another issue, according to Gotsch. Data suggested that people weren't necessarily commuting longer, but they were spending more time in their vehicles, she said. This could boost or reduce frequency depending on the scenario, according to Gotsch, though she noted ADAS can be helpful in preventing gridlock-scenario crashes.
Gotsch also noted that an increase in total loss volume would hurt repairable volume but not overall frequency. (To an insurer, they're both another unit of auto claim frequency volume; to a repairer, a total might mean a vehicle they never see — meaning less work.)
Frequency down
No. 4 Allstate reported its gross auto property damage frequency fell 2.6 percent and paid claim frequency dropped 1.7 percent in 2018. Its frequency decreases the prior year were even larger.
No. 2 GEICO's frequency in 2018 for "property damage, collision, and bodily and personal injury protection" fell 2-4 percent from 2017, compared to between 0-3 percent decline that year.
No. 3 Progressive said its entire personal auto frequency decreased by 3 percent in 2018, the same proportion as in 2017.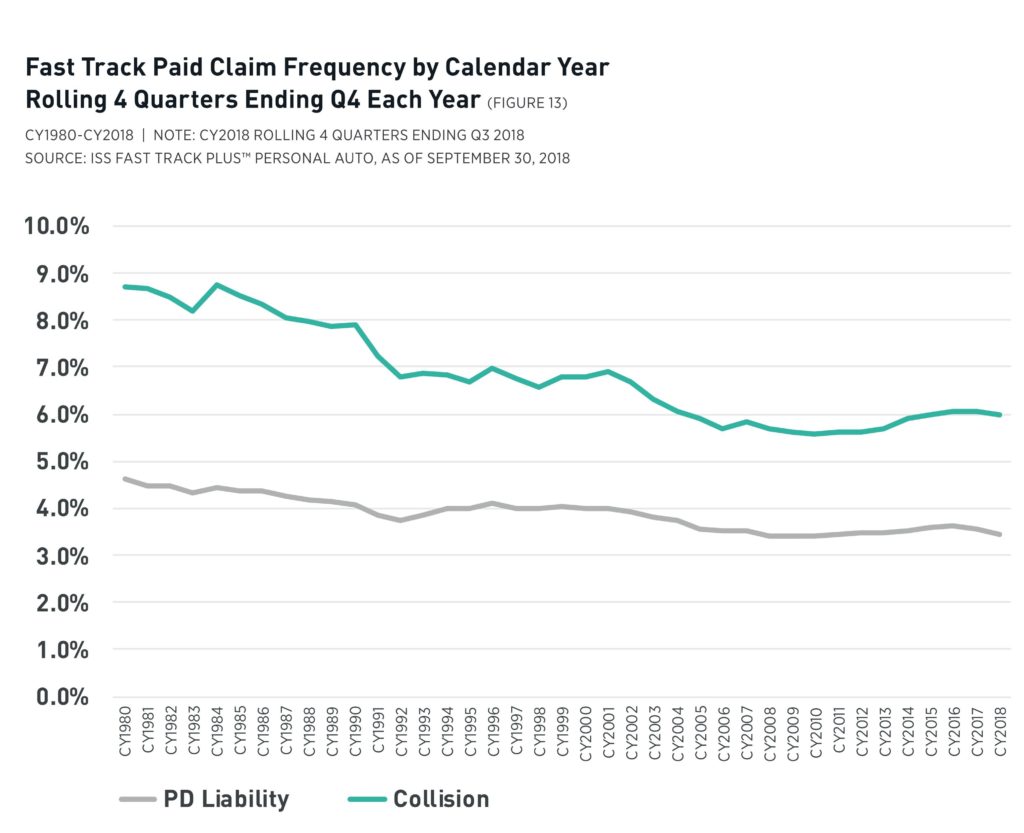 "Personal auto results were helped in large part by a slowdown in claim frequency across collision, property damage liability and comprehensive," CCC wrote in "Crash Course," citing ISS Fast Track Plus data. "Auto claim frequency has trended down for many decades, but recently rose with the recovery after the Great Recession. In 2017 and 2018, it began to fall again.
"According to the ISS Fast Track Plus™ reports, private passenger auto collision frequency closed out CY 2017 down flat versus CY 2016, and the four quarters ending Q3 2018 show collision frequency down another 1.3 percent. Private passenger auto property damage liability frequency also declined 1.7 percent in CY 2017 from CY 2016, and the four quarters ending Q3 2018 show liability frequency down another 3.9 percent."
More information:
Images:
CCC predicted in 2018 and again in 2019 ADAS will produce a 5 percent drop in vehicles in crashes from a baseline 1995 statistic by 2022. However, ADAS starts to more significantly cut crash volume from that tipping point, with volume down 20 percent by 2030 under CCC's projections. (Provided by CCC)
CCC summarized 2017 Insurance Institute for Highway Safety projections regarding advanced driver assistance systems spreading across the U.S. fleet. (Provided by CCC, IIHS)
Insurance Institute for Highway Safety Highway Loss Data Institute research has determined that numerous common advanced driver assistance systems are effective in reducing crashes. (Provided by Insurance Institute for Highway Safety)
"Personal auto results were helped in large part by a slowdown in claim frequency across collision, property damage liability and comprehensive," CCC wrote in the 2019 "Crash Course," citing ISS Fast Track data it presented here. "Auto claim frequency has trended down for many decades, but recently rose with the recovery after the Great Recession. In 2017 and 2018, it began to fall again. (Provided by ISS Fast Track Plus, CCC)