This article is care of https://www.moneysavingexpert.com/travel/pothole-claims/#fullclaim
Anyone who's ever hit a pothole will have heard that horrible sudden clunk. Your car's been crocked and you know it's going to cost.
There are claims it would cost billions to bring the roads up to scratch over the next 10 years, but whoever controls the road has a legal duty to maintain it to a fit standard. If they don't, and your car's damaged, they should pay for repairs. That's the law – our straightforward, step-by-step guide shows you how to use it.
Let us know your tips. The subject of potholes claims is a large and complex one. Please give us your feedback on this guide, suggest improvements and let us know how your claim went in the Pothole claims forum thread.
While every effort's been made to ensure this article's accuracy, it doesn't constitute legal advice. If you act on it, you acknowledge that you do so at your own risk.
'I claimed £498 – a wonderful feeling of winning justice'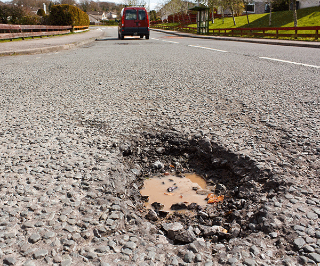 Potholes are a plague on Britain's roads. The Local Government Association claimed in 2016 that it would take 14 years to clear the backlog of potholes, despite councils filling in almost two million per year. The Government has pledged more than £6 billion to try and tackle the problem by 2021.
Whenever we ask you what you'd like us to campaign on, huge swathes of you say 'potholes, potholes, potholes'. So we wrote this 10,000-word (you don't need to read it all) guide to help.
If you've hit a divot or a crack and your car's damaged, the process of filing a claim can seem daunting, and many drivers don't know where to start. But if the authority which was responsible for maintaining the road failed to do so properly, it is possible to successfully claim for repairs in full.
Of course, you can only claim if the authority was at fault. Potholes are inevitable, particularly in winter, so the key question is whether it could and should have fixed it before your car went clunk.
Remember, in reporting a pothole, you're being a good citizen. And if the authority was negligent and didn't do the checks it should have, claiming for repairs can help put pressure on the powers that be to keep the road safe and in good condition. Equally though, this is taxpayers' money and in the short term claims can put local councils under real pressure, so you'll need to decide for yourself what the right thing to do is.
It can be a long slog, but don't be put off – we've seen many successes:
Two mangled alloys and one tyre, £735 worth of damage. Claim now settled for the full amount after initially being thrown out. Thank you MSE for the pothole claim guidelines.
– Mrchewie
I hit a pothole on the M20 motorway on my journey home from work and suffered a cut to a tyre. I claimed from the Highways Agency and got £530.
– David
I went through the small claims and Bucks County Council threw in the towel 48 hours before the hearing. They paid me everything (£400) and the pothole hadn't been reported before.
– Richard
Our claim eventually went to the small claims court. It increased to £498 with court fees, interest and compensation. It requires persistence and a lot of time. But it can result in a wonderful feeling of winning justice.
– Tom
Surprise surprise my original claim was rejected by the local authority. Not to be deterred I sought the maintenance history through the FOI route which seemed to infer that problems in the street had not been actioned over the three months prior to my event.
Once I reported the damage and indicated my intention to claim, the repairs were completed the day after. The process has taken nearly three months but my claim will now be paid in full as a goodwill gesture although no liability is being accepted for the damage. I can live with that though! The moral – don't be deterred.
– Forbecs
The best advice is persevere. The forms sent to me were phrased to make me give up before I started. However I was so angry I completed every step (hurdle) and eventually I was compensated for the replacement wheel and tyre I required.
– Ca55ie
Before you start, keep in mind that it isn't always easy to claim for pothole damage. While there are successes, there are many instances where claims are rejected too.
Get Our Free Money Tips Email!
For all the latest deals, guides and loopholes – join the 12m who get it. Don't miss out
Pothole claims – the need-to-knows
Before you get into actually making a claim, here are the big questions answered.
1.

 

A pothole is a road defect that causes an immediate risk or hazard

Potholes are usually caused by water seeping down into the road surface, then freezing and creating gaps that widen up into gaping holes in the road.

According to many councils, in order to count as a pothole the hole must be at least 40mm deep – about the height of two 20p coins. If the one you hit wasn't that deep you can still claim, but it could be tougher to get anything back.

If your car's been damaged by a problem in the road which isn't a pothole – if you've hit a piece of loose pavement, for instance – you may still be able to claim by following the step-by-step system below. But your chances depend on how the road defect is categorised by the authority responsible.

2.

 

You need to prove it was the pothole wot dunnit

Hitting a pothole normally causes damage to a car's tyres, wheels or axles, and you'll often know immediately that something's wrong (you'll probably hear it).

In order to claim for the damage, you'll have to prove the pothole caused it – that the repairs you're having to shell out for were specifically caused by your impact with the pothole. Your mechanic should be able to put this in writing for you.

If your vehicle already had a problem, and the pothole made it worse, you can still claim but you won't get the full repair costs back.

3.

 

Check who's responsible – then report it!

As soon as you've hit a pothole, make sure you warn other drivers. Whether or not you intend to claim, calling it in will help to keep the roads safe (and if you do intend to make a claim further down the line, it's important to be able to show you did your civic duty).

Even if you don't think you'll qualify for compensation after hitting a pothole, ALWAYS report it. We need to put pressure on the authorities to fix these problems. That's not just about making it costly when they don't fix 'em, it's making sure they know about problems on their roads.

Different authorities are responsible for maintaining certain types of road, so you'll need to check who to contact. The table below shows who's in charge of what. To find out what road you're on – first check the road name on a map or sat nav and if you're still stuck you can contact Highways England for help.

When you call up the relevant company, ask if claim forms can be sent to you, or if you can download them online.

How to report a pothole

AREA AND TYPE OF ROAD

WHO'S RESPONSIBLE

HOW TO REPORT THE POTHOLE

Eng, Scot, Wal – Local roads, B roads, smaller A roads*
Local council
Call the council or report via its website. For Eng & Wal you can find the council by postcode on the Gov.uk website and for Scot check the Convention of Scottish Local Authorities site
Eng – Motorways, trunk roads (major A roads)*
Highways England
Email info@highwaysengland.co.uk or call 0300 123 5000 (open 24/7)
Greater London – Roads listed as 'red routes'
Transport for London
Report it on the Transport for London website or call 0343 222 1234
NE Scotland, NW Scotland – Motorways, A roads
Bear Scotland
(maintenance firm for Scottish Govt)
Report it on the Bear Scotland website or call 0800 028 1414
SW Scotland – Motorways, A roads
Scotland Transerv (maintenance firm for Scottish Govt)
Report it online at Scotland Transerv or call 0800 028 1414
*Broadly speaking local councils take care of local A roads and Highways England look after major A roads, although it's impossible to say categorically and exceptions apply. Check Highways England's network map to see the roads it's responsible for.

4.

 

You can claim if your vehicle's damaged and the authority responsible for the road failed to properly maintain it

Britain's highway authorities and agencies are legally obliged to maintain roads to a safe standard. That includes fixing potholes.

If your vehicle's been damaged and you believe the authorities haven't maintained the roads properly, how much you can claim for generally depends on the extent of the damage. Typically, car damage claims tend to be around £300-£500. Some drivers who've claimed have successfully recouped the entire amount – in other cases, they've won part of the cost.

Some have also successfully claimed for injury resulting from a pothole collision, but this guide focuses only on vehicle damage claims. If you intend to claim for personal injury, you'll need to seek legal advice.

There's no explicit sentence in law which covers claiming for potholes, but there are laws which force authorities to keep the roads safe – and that's what you'll be claiming the authorities have failed to do.

For most pothole claims there's a step-by-step procedure you can follow. But if your claim's not successful, ultimately the last resort is to go to the small claims court – except in Northern Ireland, where there is an ombudsman.

Quick questions

How long will claiming for pothole damage take?

It depends – it can be a lengthy process. We've heard of some claims being approved in as little as four weeks, but other cases take seven or eight months.

Be patient and tough it out because sometimes claimers will hear nothing for months, then suddenly get a letter confirming compensation. You'll likely need perseverance and patience. We'd love to hear your triumphs in our Potholes forum discussion.

What are my chances of success?

Let's not beat around the bush – submitting a claim for pothole damage can be a fair bit of work, and success is far from guaranteed. Even experts in the field admit it can be a challenging process.

That said, it is possible to recoup the cost of the damage, and we hope that as more people try this, it'll become easier. In many of the cases we've seen, claimants have got the full cost of repairs, with some going all the way to court. Others have decided, after a lengthy process, to accept a settlement for part of their costs.

The bottom line? You have a decent shot of getting your damage paid for, but it may take some time and there are no guarantees.

How far back can you claim?

If you hit a pothole and damage your car it's easiest to claim as soon as you can. However, officially the limit for retrospective claims is six years (five in Scotland) – because that's how far back you can go when filing for damages in the small claims court.

If you hit a pothole years ago and didn't gather any evidence, it's unlikely you'll be able to claim for damage now. But if you did collect evidence at the time but didn't file a claim – or did file a claim and were rejected – you may still be able to make a full claim using a Freedom of Information request as we explain below.

However, there's no guarantee you'll be successful – and a full claim takes a lot longer and involves more paperwork.

What about private roads? Sometimes drivers may hit a pothole on a road controlled by a business – for example, where a supermarket is responsible for the road or car park leading to its entrance.

Here the same legal principle applies – the private company in question still has a legal duty to keep the road safe (the rules are set out in the Occupiers Liability Act (OLA) 1984 for England, Wales and N Ireland – in Scotland it's the Occupiers Liability Act (OLA) 1960).

Pothole pranged your bike? The information in this guide isn't just for motorists. Although we've generally assumed you'll be claiming for damage to a car, if you hit a pothole while on a bike the same rules and processes apply.

5.

 

If you've hit a pothole, consider telling your insurer

Although this guide is about claiming for pothole damage from the authority responsible, you also need to consider claiming on your car insurance. And even if you don't claim on your insurance (or you only have third-party cover), you'll need to decide whether to notify your insurer.

Should I claim on my insurance?

There's no doubt that claiming on your car insurance is an easier process than claiming compensation from those responsible for maintaining the road (and doesn't rely on you claiming from the taxpayer, either). But you need to factor in the cost of the damage, your excess and the effect on any no-claims bonus you have.

Bear in mind you can't claim twice – if you claim on your car insurance, there's no point claiming compensation as well. (If you did, then according to a legal technicality anything you got from the responsible authority would be paid to your insurer.)

Should I notify my insurer otherwise?

Insurers tell us drivers should notify them of pothole damage immediately, regardless of whether they intend to claim. You'll then usually have around five or six months before you have to file an insurance claim, which gives you time to see if a claim to the responsible authority will work first.

Be aware if you do notify your insurer, there might be a risk in some cases of your premium being affected for the following year, even if you don't actually claim. This is impossible to quantify (plus big insurers have told us claiming WOULDN'T affect next year's premium), but it's something you should consider.

Damage from a pothole? Gather evidence

The first thing to do is start collecting the proof, pronto. No matter which authority you're claiming from, your overall goal's the same – to gather enough evidence to prove the authority was negligent.

If safe, take photos and measure the pothole's depth

If you've a tape measure handy, and if it's safe (please don't try this on a motorway), measure the depth of the pothole and note it down. If it's 40mm or more deep (roughly the height of two 20p coins) then bingo – it's definitely worth pursuing. If it's less, it's still worth continuing, but you might not get the full cost of repairs back. Measure the width too.

Take pictures straightaway, or as quickly as it's safe to do it. If you don't have a camera when it happens, you can always come back. Things to photograph include:

Close-ups of the pothole. We don't advocate stopping traffic, but it's vital to act quickly. A handful of pictures showing the width and depth of the pothole should be OK. If you can, measure the depth with a tape measure, then take a picture with the tape measure inside it.

If that's not possible, get any standard-sized object (a newspaper could do the job), put it inside the pothole, and mark the depth on it to give you a metric.

The pothole's position in the road. Take some mid-range pictures of its position in the road from different angles, showing which lane it's in. Check the pothole's visible in these.

Road signs. Get more pictures of the immediate stretch of road including road signs. Photographs of nearby landmarks such as schools and prominent buildings will help pinpoint the spot.
Your car. You'll need to show the damage done, so take several clear pictures of anything that's broken, severed, dented or scratched.
Yep, we're stating the obvious here, but if the pothole's on a motorway or major carriageway anywhere in the UK, you can't stop to take pictures. Not only is it unsafe, it's also a criminal offence to walk unauthorised along a motorway. You also need to be careful about stopping in a dangerous place and getting out of your vehicle.

Your best bet in this case is looking for a nearby bridge that allows you to take pictures of the signs and general location.
Take notes and gather the paperwork
Any documentary evidence will boost your case, so it's important to collect as much supporting paperwork together as possible. Here are some of the things to consider (although don't worry if you don't have something for every point):
The pothole's exact position: Make a note of its location – eg, where it sits in the road, which lane it's in (if that applies) and how many metres it is from the pavement. Note any landmarks on either side of the road. If there's a prominent building nearby (say a church or a school), ensure you get its name.
The accident itself: Keep a record of the moment you hit the pothole. Write down the exact time and date, and try to describe the conditions – the weather, traffic and so on. Be as accurate as you can.
Did anyone see you hit the pothole? If they did, and if it's possible to contact them, ask if they'll put something in writing for you. For example, if it was impossible to see the pothole on approach, or if it was clearly a hazard, ask if they'll confirm this. This may help your claim further down the line.
A map-like sketch: If you can, do a quick sketch of the pothole, the stretch of road it's on and a couple of buildings or signs either side. Don't worry too much about the quality, it doesn't have to be Van Gogh.
If possible, try to make any notes as soon as possible after the event, and date them. If the worst comes to the worst and you have to go to court, 'contemporaneous' notes (ie, those written at the time something happened) are generally considered more reliable.
Keep a record of the damage to your car
This bit's crucial. Remember, you're not claiming for general compensation as such, you're reclaiming the cost of repairs to your car.
When you get your car looked at and then repaired, keep a copy of your bill and make sure it's clearly itemised and dated. If possible, ask the mechanic to put it in writing that the damage was caused by a pothole – if you can, it'll really help later on.
Try a fast claim first
By now you should know which authority's responsible for the pothole you hit, and you should have reported it (if not, go back and do so now). You should also have gathered a variety of evidence.
Now it's time to claim. The simplest and fastest way of doing this is by using the authority's own claims process – normally it just means filling in a form. Not every authority lets you do this, and if they do, it's not always successful. But it's always worth trying first.
Forumite reduceditem was successful doing this, posting:
I claimed from Glasgow City Council for pothole damage that required both coil springs to be replaced. They sent me out a form that I completed and returned with photos.
Several weeks later they sent me a letter simply asking me to send them my garage repair bill. Some time after that I got my cheque.
Here's how to file a fast claim – and remember, if you're not sure who to claim from and report the pothole to, check here:
Councils in England, Wales or Scotland. Some councils in England, Wales and Scotland will send you a form to complete when you report a pothole. If not, you can check whether your council allows fast claims by looking on its website. A full list of council websites can be found at Gov.uk. If your council doesn't have a fast claims system, skip to How to make a full claim.
Transport for London: You should be sent a form after reporting the pothole – if it doesn't arrive, call 0343 222 1234. There are separate forms for drivers and cyclists. Once you've sent it off, TfL's insurance provider Gallagher Bassett will investigate your claim. There's no official timeframe for you to get a response though.
Highways England: Again, you should be sent a form when reporting the pothole. If not, call 0300 123 5000. The form should arrive in 15 days. After you send it in, the agency has 90 days to respond.
Major roads in Scotland: All the agencies that look after motorways and A roads in Scotland should send you a form when you report a pothole – if not, call either Bear Scotland on 0800 028 1414, Scotland Transerv on 0800 028 1414 or Amey on 0800 521 660. The form should arrive in two working days. Bear Scotland says responses generally take 28 days – Scotland Transerv give no firm timeframe.
Traffic Wales: If you asked for a form when reporting the pothole, you should have been sent an information pack and claim form – if you didn't or it hasn't arrived, call 0300 123 1213.
DfI Roads (business unit that manages and maintains Northern Ireland's transport network): You can download the form directly from the NIdirect website.
Private roads: Claiming for pothole damage on a private road generally works in a similar way, but it's a slightly different process.
Submitting a fast claim
The advantage in submitting a fast claim if you can is that it's just that – fast. The only thing you have to do is fill in the form you were sent by the authority and send it off, along with any evidence they request. However, it's helpful at this stage to include any additional evidence you have to boost your case.
Copies of repair invoices and proof of payment
Copies of your mechanic's statement on cause of damage
A note (or map) of the pothole's location
Note of the date and time the damage occurred
Photos of the damage
Photos of the pothole if possible
Notes from anyone who saw the incident
To strengthen your claim, we've also created a short template letter to send alongside the form, which briefly outlines your case and makes it clear that if you don't receive compensation for the damage to your car, you're ready to take it further. Although you don't have to send this, it'll show the authority you've done your homework and are prepared to take it on.
Hurrah – the claim's submitted
After you've sent the form off, it may take a while to hear back. When you do, one of the following three things will happen:
Be prepared to compromise – it saves time and hassle. If the authority doesn't offer all the money for the repairs, just a chunk of it, it's worth understanding that taking this further is going to take time and there's no guarantee of success.

Is it offering you enough, and is it worth the time and effort of chasing for the full amount? You may want to reply and say: "I think you should give me a little bit more" to see if it'll give you a better offer. If you're still not satisfied, move on to How to make a full claim.

There's a fair chance that your fast claim will be turned down. If so:

Don't be put off: this is quite common. It's a lot easier for organisations to reject people now – even those who will succeed at the next stage.

If you're rejected, the authority may well quote part of Section 58 of the Highways Act in its rejection letter. That says:

"This requires that a court shall have regard to whether the highway authority knew or could reasonably be expected to know, that the condition of the part of the highway to which the action relates was likely to cause danger to users of the highway."

It may sound convincing, but don't give up automatically. Even if the authority/agency was unaware of the pothole because it wasn't reported, you still have a chance. That's because you may still be able to prove the road wasn't maintained properly. The next section shows you how to do that.
Still unsatisfied? Try small claims court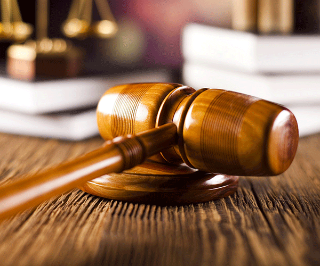 If you go through the whole process and they still reject your claim, your options are unfortunately limited (unless you're making a claim in Northern Ireland). You do have the right to take your claim to the small claims court (or sheriff's court in Scotland) though.
Don't think automatically of judges and wigs – the small claims court is the low-hassle way to take legal action for up to £10,000 (£5,000 in Scotland) against a firm or individual. But you need to be confident you've got a case before you start, as there are fees if you lose.
You can see full info for small claims in England, Wales and Scotland in our Small Claims Court guide.
If your claim is in Northern Ireland, you CAN pursue it further with the Department of Infrastructure (DfI).
If you still believe there are discrepancies between what the DfI should have done and what it did in terms of maintaining the road you encountered a pothole on, you can write back to them, explain these discrepancies and state that you're making an official complaint.
If you're unsatisfied about the general way your claim was handled, you can also complain to the DfI Roads Claims Unit. This is more about delays and communication though, rather than the decision itself.
If you exhaust the complaints process and there's still no satisfactory resolution, then unlike in the rest of the UK, there is somewhere else to turn.
You can take your case further by contacting the free NI Ombudsman. It will provide you with an independent adjudication – if this goes against you, then it's highly likely any court action will be unsuccessful.